A lot of discussion takes place these days with regard to e-book piracy. It seems that e-published authors run themselves ragged just trying to keep up with it. It also seems that there are laws in place that protect our rights as authors. However, there is no enforcement.
Authors and publishers post warnings to pirate sites. The sites sometimes remove the book or simply close down shop and open up somewhere else. And then there are those sites that just say "up yours" and carry on. It's a vicious, never ending cycle.
So what can we do to help protect ourselves?
I've listened to the constant debate and given this issue some real thought. Posting warnings on our blogs and websites is a place we can start. Educating the readers out there as to how sharing our books affects our wallets is most important. Publishers can help with the cause by coding books so they can later be tracked to the source of the illegal sharing once they've been discovered on a pirate site. So open up a dialogue with your publisher and find out what you can do together to combat the problem of e-book piracy.
As an author, I've decided not to give away any more copies of e-books as contest prizes. I have a couple of books that have already been pirated, and it seems fruitless to worry about that at this point. But for any new release of mine, I'll be giving away gift certificates to my publisher's website or gift cards instead.
Why? Every where I go I see a free download of an author's e-book offered as a prize. I've done the same thing. But giving away our work generates the mindset that the book is somehow not important and devalues the book. Devalues e-books in general. I realize that it's relatively easy and doesn't cost the author anything to send out a copy of an e-book as a prize. Let's face it, not everyone can afford to give away prizes. But in the long run, giving away your book is costing you.
When we give away e-book after e-book as if it has no value to us, we're doing the same thing the pirates are. Not everyone will agree with my stand on this issue. And that's fine. But I'd like to ask all the authors out there to think about this and look for other ways to entice readers to your books or give away publisher gift certificates instead.
Tonight I'll be at Night Owl Romance for a live chat.
http://nightowlromance.com/nightowlromance/chat/chat.aspx
I'll be talking about my new release,
Latin Rhythm
from
Pink Petal Books
. I hope you'll stop by and join the chatter. I'll be giving away a $5.00 gift certificate to
Pink Petal Books
.
http://pinkpetalbooks.com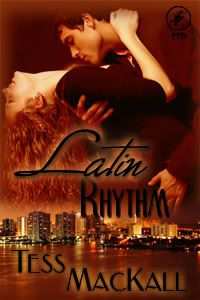 Visit Tess's Website
http://www.tessmackall.com
(Sorry! Website is being updated. Back online soon.)
Visit Tess's MySpace
http://www.myspace.com/tessmackall
Find me on Twitter
http://twitter.com/tessmackall
Join Tess's Newsletter
http://groups.yahoo.com/group/TessMackall
Tess on the Nice 'n' Naughty Blog
http://nicennaughtyauthors.blogspot.com
Tess on the Sensual 'n' Secret Blog
http://sensualnsecret.blogspot.com
Tess on the Flirty Author Bitches Blog
http://flirtyauthorbitches.com
Join Midnight Seductions
http://groups.yahoo.com/group/MidnightSeductions